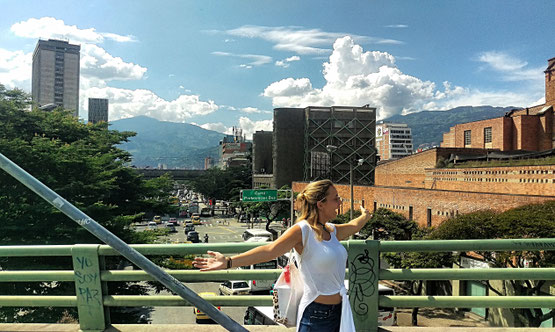 Hey guys,
2016 was my first time in Colombia and it was awesome! Already at the airport you noticed that you are no longer in Europe. Everywhere people wanted to sell food or something else. They were walking around and shouting. It felt like you are on a farmers market. 
The airport José María Córdova is a little bit outside of Medellin. So we needed to take the bus first. On the bus ride we noticed that Medellin is a valley. Around Medellin you see a lot of big mountains. The street to the city center was really winding but the view was beautiful. Everything was green, so different than Curacao. From the city center we drove with the taxi to our Airbnb accommodation. To take a taxi over there is super cheap. However not a single taxi driver knows the street names :D. So we had to guide the driver with google maps. Three times we drove past our accommodation, so we asked the neighbors for the right way. The taxi driver was no help at all. It was the first time for us that the booked an accommodation about Airbnb. Everything just worked fine and our hosts Nathalie and David were super friendly. Nathalie actually was from Germany but she moved to Colombia for her husband David. 
Hi meine Lieben,
2016 war ich das erste Mal in Kolumbien und es war der hammer! Direkt am Flughafen hat man schon gemerkt, dass man nicht mehr in Europa ist. Überall laufen Leute rum und wollen dir Essen oder irgendeinen KrimsKrams verkaufen. 
Der Flughafen José María Córdova ist etwas außerhalb von Medellin, weswegen wir dann erstmal den Bus nehmen mussten. Auf der Busfahrt hat man gesehen, dass Medellin in einem Tal liegt und von riesigen Bergen umgeben ist. Die Fahrt nach unten war sehr kurvenreich, aber der Ausblick war wunderschön. Alles war grün, ganz anders als auf Curacao. Von der Innenstadt aus sind wir dann weiter zu unserer Airbnb Unterkunft gefahren. Wir haben uns dafür ein Taxi genommen, denn in Kolumbien ist Taxifahren super billig. Jedoch kennt in Kolumbien anscheinend kein einziger Taxifahrer die Straßennamen :D. Das hat das ganze etwas komplizierter gemacht. Naja, nach langem hin und her Gefahre und nachdem wir drei Mal an unserer Unterkunft vorbeigefahren sind, haben wir es Dank Google Maps und freundlichen Nachbarn dann doch endlich gefunden. Der Taxifahrer war keine große Hilfe. Das war das erste Mal für uns, dass wir über Airbnb eine Unterkunft gebucht haben. Es hat aber alles super geklappt und Nathalie und David waren tolle Gastgeber. Nathalie kam sogar aus Deutschland, ist aber für ihren Mann David nach Kolumbien gezogen. 
At our first day we just walked through our neighborhood because we were so exhausted from the flight and overwhelmed from Colombia. The next day we started to explore Medellin by bus and train. We just drove through the city and wrote everything on our to do list that looked interesting. The bus and train system was easily to understand but if we had questions we could always asked the people around us. They were all super nice and helpful. And they loved talking to "gringos" like us. In the backstreets of Medellin, called comunas, there is even a gondola cableway and sometimes it´s for free. We took the gondola cableway till the end, so that we had an amazing view on the city and the woods. At the end there was a park, it´s called parque Arvi. This park is a huge forrest with tropical plants and a small market at the entrance of the park. Already there I noticed the altitude difference to Germany and that a mountain in Colombia means something different than in Germany.
Am ersten Tag haben wir nur unsere Nachbarschaft erkundet, denn wir waren viel zu erledigt vom Flug und viel zu überwältigt von Kolumbien. Der zweite Tag fing mit der Erkundung des Bus- und Bahnsystems in Medellin an. Es war ziemlich einfach zu verstehen und sonst konntest du auch immer wen fragen, denn die Kolumbianer sind super hilfsbereit und reden natürlich nur zu gerne mit den "Gringos". In den ärmeren Viertel, genannt Comunas, gibt es sogar ein Gondelsystem, was teilweise umsonst ist. Wenn man die Gondel bis zum Ende nimmt, hat man einen unglaublichen Blick auf Medellin und seine Wälder. Am Ende sind wir im Parque Arvi gelandet. Eine riesige Waldfläche mit tropischen Pflanzen und einem kleinen Markt am Anfang des Parks. Schon dort hat man den Höhenunterschied zu Deutschland gemerkt und das in Kolumbien ein Berg was anderes ist als in Deutschland. 
Justus and I always ate in the comunas or somewhere at a street booth. We never were afraid that we could get sick. As long as the food smelled good and looked good, we tried it. And most of the times it was pretty good! I never regret that we only ate at cheap places. Quite the opposite. The people of those street booths were super friendly and they always wanted to talk to us. They were curious about us because we are "gringos" and sometimes it was the first time that they met someone from Europe. They wanted to know what we think about  their country and if we like it. I never met a nicer or prouder nation. The people in this country are one of the reasons why I felt in love with it! They are always friendly and helpful. The less they have, the happier they are!
Justus und ich haben uns nie gescheut in den Comunas zu essen oder von irgendeinem Straßenstand was zu kaufen. So lange es gut roch und aussah, haben wir es probiert. Und meistens war es auch ziemlich gut! Ich habe es nie bereut, das günstige Essen zu essen. Sogar im Gegenteil. Die Leute an diesen Ständen sind super freundlich und wollen dich immer sofort in ein Gespräch verwickeln, denn du bist einer der wenigen Gringos, die sie bisher in ihrem Leben gesehen haben. Sie wollen mehr von einem erfahren und wollen wissen, wie man ihr Land einschätzt und ob es einem gefällt. Ich habe nie ein netteres oder stolzeres Volk kennengelernt. Die Menschen in diesem Land sind einer der Gründe warum ich mich in es verliebt habe! Sie sind immer nett und hilfsbereit und haben ein Lächeln auf den Lippen. Umso weniger sie haben, umso glücklicher sind sie! 
After three days we needed to change our accommodation. This time we lived at Alejandro´s place and we also found it on Airbnb. Alejandro is from Colombia and he told us a lot about his country. He even made a guided tour with us and showed us the best places to get food. I never met an Colombian before who knew more about Germany than me. Alejandro knew everything! He thinks Germany is super interesting and he knows more German movies than me :D. He is a cinematic art fan and he loves everything related to history. No matter which country. I gained a lot from our time with Alejandro and it inspired me to reflect. Thanks for that Alejandro! I hope I will see you again some day!!
Nach drei Tagen mussten wir leider schon wieder unsere Airbnb Unterkunft verlassen. Wir haben aber ganz in der Nähe eine andere gefunden. Bei Alejandro. Er kommt aus Kolumbien und hat uns erstmal alles über sein Land erzählt. Er hat sogar eine Stadtführung mit uns gemacht und uns die besten Lokale gezeigt. Ich habe noch nie einen Kolumbianer getroffen, der mehr über Deutschland wusste als ich. Alejandro wusste alles! Er findet Deutschland super interessant und kennt mehr deutsche Filme als ich :D. Er ist ein Fan der deutschen Filmkunst und er liebt alles was mit Geschichte zu tun hat. Egal welches Land. Die Zeit bei Alejandro hat mich bereichert und zum nachdenken angeregt. Danke dafür Alejandro! Ich hoffe wir sehen uns irgendwann wieder!!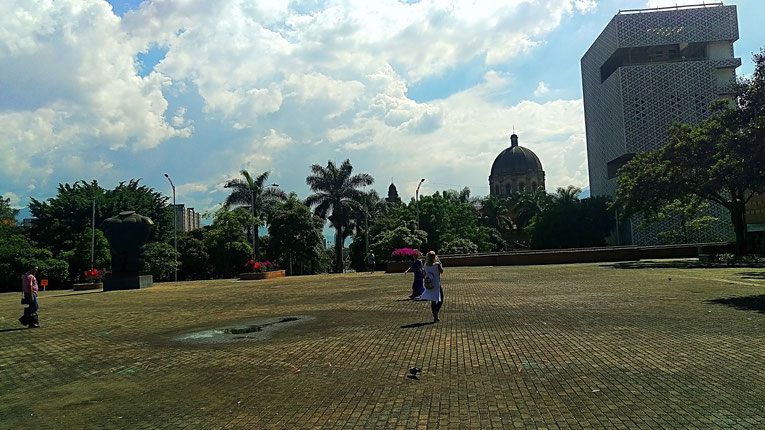 During our time in Medellin we often went to churches or museums. The churches in Medellin are just beautiful. Or we walked through the neighborhood and explored things that attracted us. The city has a beautiful architecture and is full of art. Everywhere we went we saw statues from Botero or skillful graffitis on walls. I ate so much fruits like never before in my life. Fruits and vegetables are so cheap and delicious in Colombia. Almost everyday we ate mangos and avocados. And very often the people came to us and asked if we wanted to buy drugs. But they only asked and nothing more. One time a Colombian, Andrés, came to us and spoke German with us. It really surprised me that someone from South America could speak German. Germany is such a small country. You only speak German over there. Not like Spanish. They speak it in 20 different countries all over the world. And furthermore it´s really hard to learn. So I was pretty impressed. The three of us went to the art museum and we talked a lot in Spanish and German. We met Andrés a few times during our journey through Colombia. But only by chance.
Während unserer viel zu kurzen Zeit in Medellin waren wir oft in Kirchen oder Museen. Die Kirchen dort sind einfach nur wunderschön. Oder wir sind durch die Gegend gelaufen und haben alles erkundet was uns angesprochen hat. Die Stadt hat eine wunderschöne Architektur und ist voll von Kunst. Überall stehen Statuen von Botero oder kunstvolle Graffitis schmücken Mauern oder Hauswände. Ich habe so viel Obst gegessen wie noch nie in meinem Leben. Obst und Gemüse ist in Kolumbien einfach super günstig und so unglaublich lecker. Wir haben fast jeden Tag Mangos und Avocados gegessen. Alle paar Meter wurden wir auch von Leuten angesprochen, ob wir nicht Drogen kaufen möchten. Aber mehr als fragen tun sie nicht. Einmal hat uns sogar ein Kolumbianer, Andrés, auf Deutsch angesprochen. Es hat mich wirklich überrascht, dass jemand aus Südamerika Deutsch spricht. Deutschland ist so ein kleines Land und man braucht Deutsch auch nur dort. Nicht wie Spanisch. Es wird in 20 verschiedenen Ländern gesprochen. Und dann ist sie auch noch super schwer zu lernen. Ich war ziemlich beeindruckt. Zu dritt sind wir dann noch in das Kunstmuseum gegangen und haben uns viel auf Spanisch und Deutsch unterhalten. Andrés haben wir auch noch ein paar Mal auf unserer Reise durch Kolumbien wiedergetroffen. Aber immer nur zufällig.
After 8 days our wonderful time in Medellin came to an end. I will never forget this beautiful city and its lovely people. I hope that I will come back some day!!!
Nach 8 Tagen neigte sich unsere Zeit in Medellin leider dem Ende zu. Ich werde diese wunderschöne Stadt und ihre liebenswerten Menschen niemals vergessen. Ich hoffe, dass ich eines Tages zurückkehren werde!!!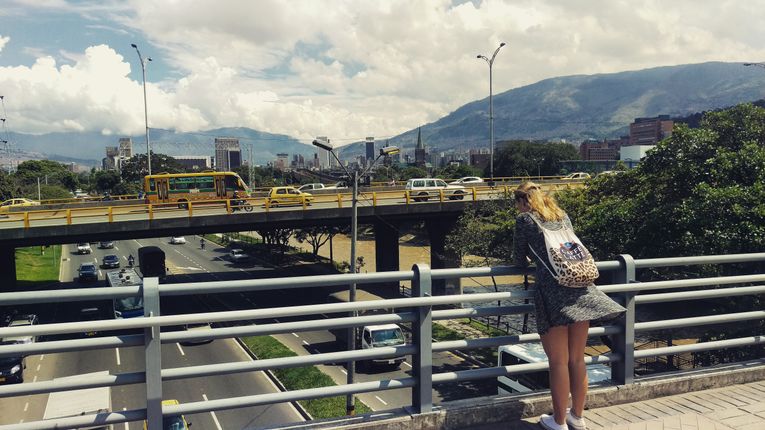 ---
I hope you enjoyed the post! :)
Stay tuned! More travel diaries about Colombia will follow soon!
Ich hoffe der Post hat Euch gefallen! :)
Bleibt dran! Mehr Reiseberichte über Kolumbien werden bald folgen!
xx Benita
---
---